Five-Year-Old Boy Loves To Wear Nail Polish, But Gets Bullied
On Twitter, a father tells the story of his five-year-old son, who gets bullied for wearing nail polish and wants to break with gender role stereotypes.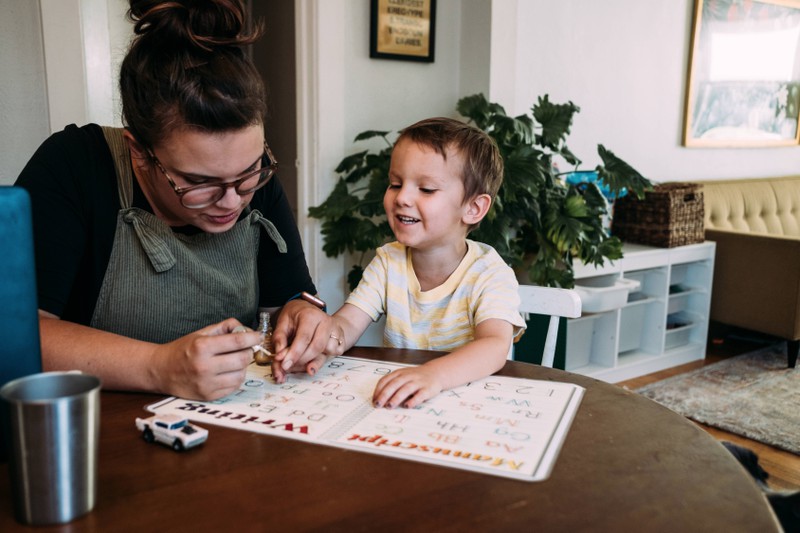 A journalist from Massachusetts, who goes by the Twitter handle @DaddyFiles, regularly posts about his three sons, journalism and politics. His newest Tweet went viral. The reason: he talked about his son Sam. A five-year-old boy who goes to kindergarten. His story is about how Sam had to learn how challenging and hurting gender role expectations and norms can be when he got bullied for wearing nail polish. The whole story is labeled with the hashtag #toxicMasculinity, which means that the role expectations for boys and men can be extremely toxic, mentally. Society demands of boys and men to demonstrate traits that are generally described as "masculine", such as showing no weakness and avoiding things that would generally be ascribed the label "feminine". Men are also confronted with prejudices and stereotyped thinking on a daily basis.
Sam's father states that his son does a lot of things people would call "typically boyish", too, like playing with toy cars, scuffling with others and doing sports. But he also likes to do things people see as "typically girly".
You can read what that means on the next page.
For example, Sam loves purses, and he owns some pretty ones because he can easily carry things with him this way.
In addition, he is a huge fan of nail polish. He mostly likes vibrant colors, because he thinks that they are "beautiful". And his father agrees with him.
But the children in his kindergarten saw it differently.
On October 23rd, 2018 Sam proudly went to kindergarten with his fingernails painted in red. His father explains that Sam has in no way any concept of gender stereotypes and he thus doesn't associate nail polish with being girly. In Sam's perspective nobody should have a problem with his pretty nails.
Turns out he was wrong. The children in his kindergarten had a huge problem with the fact that Sam's fingernails were painted in a vibrant red. They bullied him because he is a boy wearing nail polish. They laughed at him, even his friends went against him. Only one child was on Sam's side. The harassment went on the whole day, even when he told them to stop.
When Sam's mother picked him up, he broke down.
He broke down in his mother's arms and cried. When he called his father at work, Sam's dad couldn't understand a single word because of his constant sobbing. His father told him it doesn't matter what the other children think. His nails are totally cool. The only thing that counts is that Sam adores his nails. One sentence in particular broke his father's heart: "Daddy, I want mommy to take off the nail polish so they don't make fun of me."
His father explains that Sam always saw the good in people and things and in five years he was never afraid to be different, because different never meant bad. Until this day.
Then his father addressed the parents of the other children.
He turned to the parents because the children still had to learn that there is such a thing as "toxic masculinity" – and they mostly learn it from their parents.
His statement is clear: "So parents, I hope you're proud. I hope this is what you wanted. I hope you're satisfied. I hope you sleep well tonight knowing order has been at least partially restored and gender norms solidified for one more little boy whose terrible infraction was having the audacity to like brightly painted fingernails."
He further writes that he and his wife successfully taught Sam about tolerance, acceptance and the importance of demeanor in the last five years. Then, the children destroyed his principles in one day.
What his family then does for Sam warms our hearts.

His father explained to him that it is okay to remove the nail polish, if that's what he really wanted to do. But he also told him that a lot of men who Sam idolizes wear nail polish. Examples for that are Thor (Chris Hemsworth) and Captain Jack Sparrow (Johnny Depp). The statement that hit home is that the only thing that matters is that Sam thinks he looks pretty and no one else has the power to decide that. After thinking about it, Sam didn't remove the nail polish.
When his brother heard of the story, he did something important.
Sam's 10-year-old brother Will painted his nails to show solidarity with his little brother. After that his father did so, too. It is important that boys know that they can wear what they like, play with the toys they like and if they love nail polish, they can wear it, too. And DaddyFiles correctly states that if others complain about such banal things, it is their problem.
It is important for children to know that it is not bad to be different. Boys and girls shouldn't get put into stereotypical boxes, cliches, just because decades ago someone decided what's typical for girls and boys. The only thing that matters is that you feel comfortable with yourself. This applies to people of every age. Live your true self. Stand by the things you like even if others have the opinion that this doesn't fit in the stereotypical and conservative picture of society. Especially in such instances you have to show who you are and that it is good to be different!