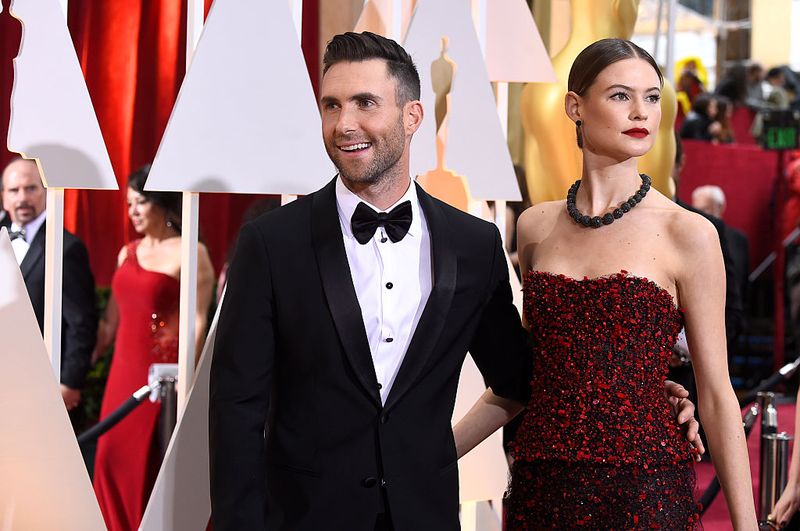 Source: Getty
Adam Levine and Behati Prinsloo, AKA Hollywood's hottest couple, are expecting their first baby in September and have been sharing Prinsloo's progress pics all over social media. The 27-year-old super model is carrying a baby girl who has basically won the genetic lottery... no doubt we'll be seeing this mini-Levine on the Victoria's Secret runway in a couple of decades too!
But until Prinsloo finally pops, we'll have to settle with the baby-bump photos the couple have been sharing on Instagram over the past few weeks - some of which show more than just her baby bump....
They're on the next page... go have a look!
Levine posted this pic of "these two sweet pregnant ladies" and it made everyone LOL! The hilarious photo shows actually pregnant Prinsloo alongside Levine's The Voice co-star and country legend, Blake Sheldon, who is sporting a bit of a (food) baby bump too!
But Levine didn't stop documenting his Namibian-born beauty's pregnancy progress there! More photos on the next page!
20 Weeks and the Maroon 5 frontman is finally showing too! ;) Prinsloo's bump is pretty mini considering her slender frame, but taking into account that she is 20 preggers it's pretty impressive that her hubby is able to pop his belly out as far as hers! So after the couple pretty much defined relationship goals with this adorable snap, Levine gave us even more to ogle!
See the sneaky, topless pic on the next page!
How did she manage to make a baby bump look so sexy?? The 27-year-old is in amazing shape, and is absolutely glowing! The beautiful photo gained almost half a million likes in little over 6 hours, so clearly the world agrees with Levine's caption - Yowza indeed!
Prinsloo is just one of many Hollywood moms-to-be this year, all of them looking simply gorgeous. In fact, even her fellow Angel and "African sis", as she calls her, Candice Swanepoel, is expecting her first baby too! We have no doubt that their babies will end up being BFFs too!