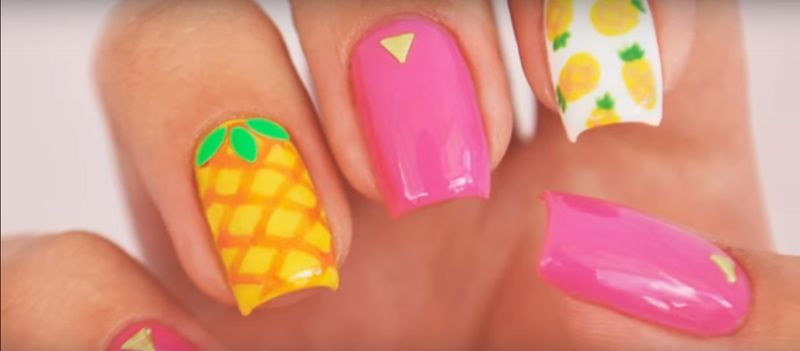 Hello Summer! What screams summertime more than tropical fruit and bright, bold colours? This nail art tutorial by CutePolish will show you exactly how to get in the mood for some summer fun - and trust us, it's easier than you think!
You will need:
1. Base Coat
2. White Polish
3. Yellow Polish
4. Orange Polish
5. Green Polish
6. Hot pink Polish
7. Green and gold nail studs
8. Top coat
9. Clear coat
10. Dotting tool
11. Fine Nail Art Brush
And trust us, even though the result is beautiful and detailed, it isn't that difficult to achieve!
Ready for fun flirty nails? Go to the video on the next page to see exactly how it's done!
So adorable!! Here's a step-by-step guide:
1. Paint your nails with a base coat to protect them from staining.
2. Paint your index finger with white polish. Allow to dry, then using a large dotting tool create oval-shaped dots using yellow polish. Once dried, go over the yellow dots with orange lines using a fine nail art brush, and finish off with green polish to create the leaves.
3. Paint a layer of yellow polish on your ring finger. Once dry, using a fine nail brush painton criss-cross orange lines. Paint over with a clear polish and carefully place on three green nail studs for the leaves.
4. Polish the remaining nails with a hot pink colour. Apply a coat of clear polish and place one gold stud at the base of each nail.
5. Apply a top coat to all nails.
And there you have it! Happy summer, ladies!