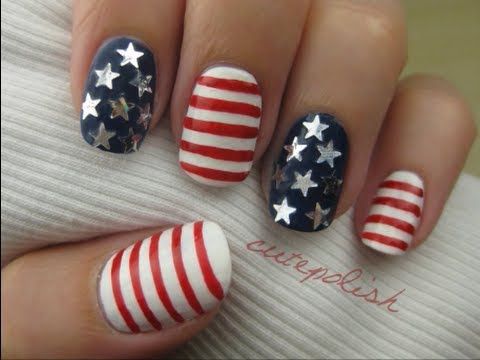 Hello Summer! Summer is officially here and that means so is 4th of July! But besides the BBQ, fireworks, and a sunny, summery day to look forward to, now is also the perfect time to decorate your nails in a cute patriotic design. But instead of going for a simple blue, white or red polish, why not get creative? This cute stars and stripes design is perfect not only for Independence Day, but for any time you may be visiting the U.S or just feeling a bit patriotic. And trust us, it's easier than you think!
Head over to the next page to watch the video tutorial!
It's such a quick tutorial that you will have your all-American design in just a few minutes! Here's how it's done:
1. Prep your nails with a base coat to protect them.
2. Paint the selected blue nails a dark blue shade. Paint 2 thin coats.
3. Use a silver glitter-star polish and apply over the blue nails once dried. Apply the stars one by one rather than simply painting over, and this gives you more control over the placement of the stars.
4. Paint 2 thin coats of white over the remaining nails.
5. Paint horizontal red stripes over the white nails using a fine nail brush. Do this by keeping the brush stationary and rotating your finger.
6. Pain over all nails using quick-drying top coat.
Happy 4th of July! :)