Justin Bieber just won Top Male Artist, so why is he so unhappy?
Biebs just went on an epic Instagram rant after winning Top Male Artist at the 2016 Billboard Music Awards.
After this epic performance of "Sorry" and "Company" at the Billboard Music Awards last weekend, Bieber was announced Top Male Artist. You'd think he'd be happy about scooping one of the most coveted awards in the music world, but the unexpected Instagram rant he went on the next day showed a different side of the story.
Things seemed a bit off in his acceptance speech, which was definitely short but not so sweet. "I'm not really a talker, but I'll say thank you to my family. I want to thank God. I want to thank everyone that believed in me and believes in me." That's it. After the show he posted two photos on Instagram of his performance and acceptance speech, but it's the next bizarre post that has everybody talking...
Alongside this completely random photo, Biebs wrote:
"I don't know about these award shows.. No disrespect to anybody at any of the shows or the people running it. Nothing but love for you guys and your support. But I don't feel good when I'm there nor after. I try to think of it as a celebration but can't help feeling like people are rating and grading my performance. A lot of people in the audience there to be seem worried about how much camera time they will get or who they can network with. When I'm doing a regular show I feel they are there for the right reasons and to strictly have a good time! But these award shows seem so hollow. I get the premise is to award people for their accomplishments, but is it really? Because when I look in the audience I see a bunch of fake smiles so that when the camera hits them they look happy. Sure there are people truly proud of others so I don't want to knock them I'm just looking at the vast majority. I just think to myself if I'm living my purpose I want the reward to be fulfillment. I'm getting awarded for the things that I'm doing and not for who I am which is understandable I know it would probably be hard to calculate and award someone's spirit lol. But When I do get these awards the temptation of putting my worth in what I do is so hard to fight!!!I am privileged and honored to be recognized by my peers in but in these settings I can't feel the recognition. There's an authenticity missing that I crave! And I wonder does anybody else.. Sorry not sorry about grammar it's not my strong point"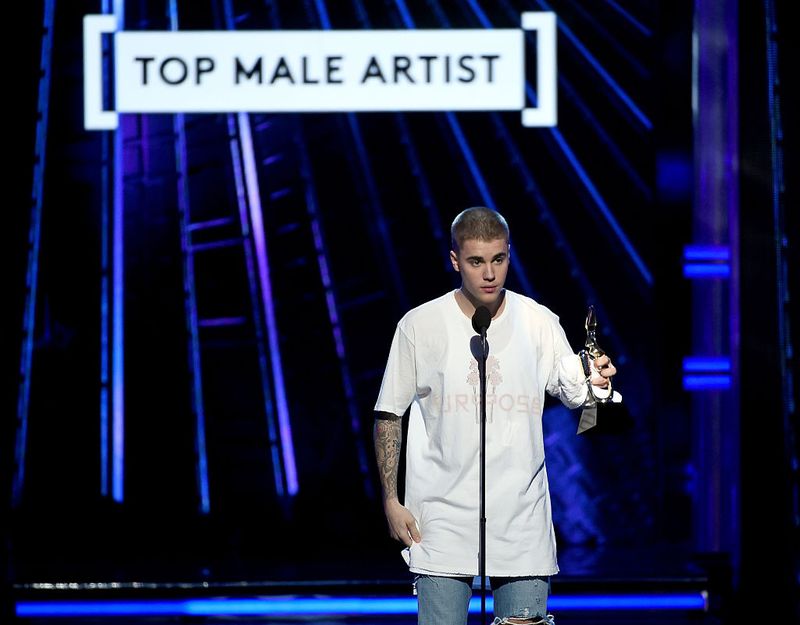 Source: Getty
We suppose there is some truth to Bieber's epic rant, but we're having a hard time feeling sorry for the dude. If you're not into award shows, don't go. But with 1.1 million likes within only one day of his post, we're guessing his fans will continue to support him no matter what.