Woman Shows How The "Perfect Body" Has Changed Over The Years
A woman shows how the idea of the "perfect body" changed over the years and, by doing so, gives women confidence regarding their body image!
With over 2.2 million followers, Cassey Ho is a successful fitness blogger. She has an enviable body and many women would like to be like her: Pretty, slim, athletic. But her message to her fans and followers is quite different: Love yourself the way you are, don't always want to match a beauty ideal – it's the only way to be happy in the long run. She shows that there is no point in trying to conform to the social ideal of a perfect woman's body by performing different transformations in an impressive photo gallery. She shows the different ideals of beauty and how the idea of the "perfect body" has evolved over the years.
In the following pages, we take you on a journey through the beauty ideals of the last decades...
Year 1400 to 1700
"The Italian Renaissance - Plump, with a round belly, big hips and a large bosom. Being well-fed is a sign of wealth and status. Only the poor are thin."
The 1920s
"Boy, androgynous and young, with small breasts and a straight silhouette. Unlike the "Gibson Girl" of the Victorian era, women hid their curves and tied their breasts with fabric to achieve as straight a silhouette as possible for their flapper dresses."
The 1950s
"The hourglass figure was in fashion. Elizabeth Taylor's measurements are the new ideal. Marilyn Monroe's sweet sensuality is in high demand. Weight gain pills are promoted for women to gain mass. Playboy magazine and Barbie were born during this decade."
The early 1990s
"Thinness is in. A bony body structure, an emaciated appearance and being super thin is what dominates the catwalks and magazine covers. There's even a name for it: 'Heroin Chic'".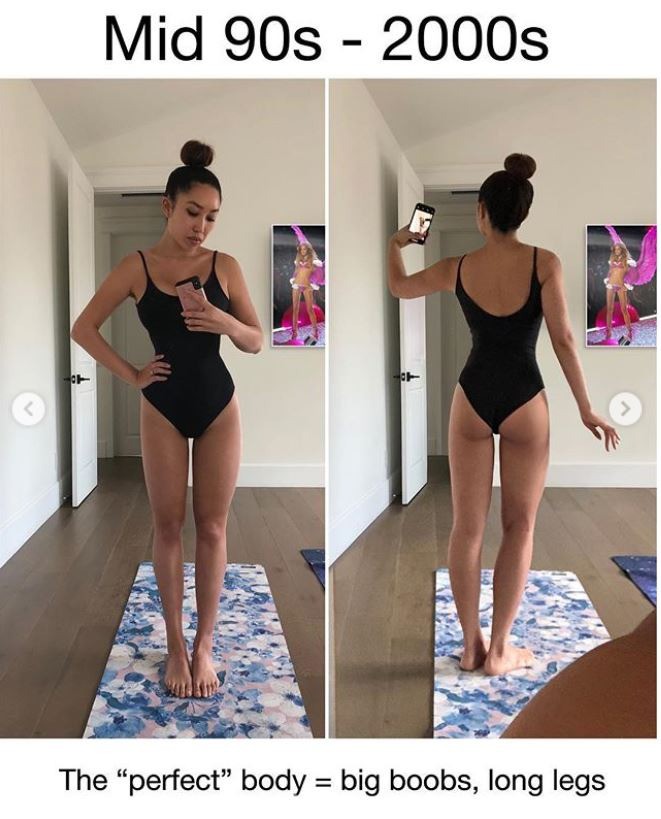 Mid 90's to 2000's
"Big breasts, flat stomach and thigh gaps are all the rage. By 2010, breast augmentation is the most performed plastic surgery in the United States. This is the era of the Victoria's Secret angels. They are tall, thin, have long legs and generous breasts".
Year 2018
"Big butts, wide hips, slim waists and full lips are all the rage! There is a huge boom in plastic surgery for butt implants thanks to Instagram models and their 'Belfies'. Even plastic surgeons are becoming famous on Instagram for transforming women. Between 2012 and 2014, breast implants and injections increased by 58%," the blogger explains.
In her next post, she sends an important message to her followers:
Cassey Ho's photo series is a hit. But what's far more important is the call she makes on Instagram:
"My question to us women is: Why do we treat our bodies as a fad? Who tells us what's in and what's out?
The problem? You can't throw away a body part just because it's from the 'last season'! [...] And seriously, do you want someone else to tell you that the way your mother gave birth to you is not good enough?
Please treat your body with love and respect and don't succumb to the beauty ideal. Accept your body, for it is your perfect body."
Words that touch us!
In addition to beauty ideals, Cassy also draws attention to the fact that the angle of view is always decisive. Just because we see a thin body does not mean that this person is more disciplined than us. Everyone has their own issues and we should stop comparing ourselves to each other!
In addition to the friendly blogger, other artists draw attention to the different ideals of women...
Besides the blogger, Karolina Żebrowska also draws attention to the changes of the female body in her YouTube video. She not only addresses the ideals of beauty, but also the reality that women have been confronted with over the years. A video that gives you real goosebumps!