10+ Rare Old Photos Of Celebrities
This Instagram account is taking the internet by storm by revealing rarely seen old photos of your favorite celebrities.
Celebrity culture has become such an integral part of our daily lives that we would theoretically be able to say which celeb wore which outfit on a particular day of the week. Alright, we might be exaggerating a bit, but you know what we mean! It's so rare to see old photos of celebrities back when they didn't share their lives on social media with us. The Instagram account @velvetcoke is dedicated to collecting the best nostalgic gems. You'll love these retro snaps of our favorite celebs!
#1 Madonna
Here's Madonna back in 1986 at the set of "Papa Don't Preach". Would you have recognized her? The tomboyish hair gives us life.
Madonna & Tupac
Did you know that the two were dating in the 90s? Since their relationship was secret at the time, there aren't many photos showing the two together, but gladly, Madonna herself posted this nostalgic snap on her Instagram! Only in 2015, during an interview with Howard Stern, Madonna confirmed that they were in fact a couple back then. "I was dating Tupac Shakur at the time, and the thing is ... he got me all riled up on life in general."
#2 Prince Harry, Victoria Beckham, & Emma Bunton
How sweet is Harry holding Victoria Beckham's hand? 20 years later, she attended his wedding to Meghan Markle.
Hard to believe that Victoria Beckham's son, Brooklyn, is already an adult himself!
On the next page, you'll see a nostalgic moment between Victoria Beckham, Geri Halliwell, Melanie C, and Emma Bunton:
Victoria Beckham, Geri Halliwell, Emma Bunton & Melanie C Reunite
In celebration of Geri Halliwell's 50th birthday, the Spice Girls reunited on the dance floor! You can see that there's still so much love between the band members, especially when you swipe to the second picture.
In the video on the next page, you can see the Spice Girls reveling on the dance floor – we're sure you've never seen Victoria Beckham like this!
David Beckham Captures Sweet Spice Girls Moment
Based on this short video taken by Victoria Beckham's husband David, it must have been a hell of a night! The Spice Girls are lip syncing to their hit song "Say You'll Be There". David Beckham fittlingly commented on the picture by saying, "Special celebrating Ginger 🇬🇧 this weekend and even more special to capture this moment of the girls ❤️ A friendship for Life." Everyone but Mel B was present for Halliwell's birthday celebrations, and Beckham noted that she "was missed."
Let's continue with the next nostalgic moment:
Sweet Moments Between Prince Harry and Queen Elizabeth II
An emotional TikTok video shows some of the sweetest moments between Prince Harry and his grandmother, Queen Elizabeth II. Their relationship seemed to be filled with love and laughter, from when he was a child to his adulthood. Just look at the loving glances the two used to exchange.
#3 Kristen Stewart
She looked so innocent here, can you believe it?
#4 Princess Diana
I love hearing stories about Princess Di from her children Harry and William. They've described her as naughty and fun, but my favorite part about her is that she was so down to earth.
#5 Diana as a Mother
On the occasion of Lady Diana's 60s birthday, which would have been 07/01/2021, the popular fan account @kensingtonroyalss on Instagram published rare family photos. While seeing those adorable snaps, we can only imagine what a loving and heart-warming mom Lady Di must have been. Not only how she embraces her children, but also her warm smile is giving us goosebumps. It wouldn't be photos showing Princess Diana if her styling wasn't remarkable as well! The caption below the post reads: "Happy Heavenly Birthday To This Absolute Icon Of A Woman, No Words Said, Will Ever Be Enough To Describe Her Kindness & Persona.
Even After Decades Of Her Passing, Her Thoughts & Beliefs Are More Relevant Today Than Ever ❤️
🌹"
#6 Brad Pitt & Jennifer Aniston
This photo of Brad Pitt was taken so long ago I barely recognize him! Okay, just kidding, we'd recognize his handsome face any day of the week. Pitt and the stunning Jennifer Aniston are the nostalgic couple of the nineties! Do you remember Pitt's guest appearance on "Friends"? His character hated Rachel Green, who was famously played by Jennifer Aniston - in real life, they were already married at the time!
#7 Meghan Markle
She has changed a lot since she met Prince Harry and became part of the Royal family. Even before that, she underwent a big transformation! Would you have recognized her back in 1998?
#8 Britney Spears
Here she is meeting a fan in 1999. The tiny glasses, the crop top - it couldn't be more 90ies!
Recent news throw the spotlight on the singer once again:
Britney Spears Announces Pregnancy
Believe it or not, but it seems like the former mega-star is expecting a baby with her fiancé Sam Asghari! Her two sons Sean Preston and Jayden James are getting a little sibling, as Spears announced in an Instagram post on April 11, 2022. After suspecting that she had a "food baby", she took a pregnancy test and found out that she's indeed pregnant! At the same time, she announces that she'll withdraw from social life to avoid the paparazzi.
What does her ex-husband Kevin Federline say about the pregnancy? His attorney revealed how he's feeling to E! News: "Kevin is aware of the recent posting by Britney regarding her announced pregnancy and wishes her a happy and healthy pregnancy ... and congratulates her and Sam Asghari as they go through the excitement of planning parenthood together." More happy news!
Britney Spears and Sam Asghari Have Lost Their Baby
The pop star recently shared the sad news that she and her fiancé lost their "miracle baby" early in pregnancy. We wish the couple a lot of strength for this difficult time and hope, as Sam commented on Instagram, that they "will have a miracle soon ❤️".
#9 Kendall & Kylie Jenner
Would you have recognized the two adorable girls? They almost looked like twins when they were kids!
#10 Mary-Kate & Ashley Olsen
We've been following the Olsen twins since they were babies, but we still haven't seen all of their photographs - just like this gem from 1993.
Victoria Beckham's Son Brooklyn Marries Actress Nicola Peltz
The young couple's wedding had been highly anticipated by fans and the press, last weekend, on April 9, 2022, the day finally arrived. Peltz (27) and Beckham (23) got married at her family's Palm Beach Estate in Florida and is supposed to have cost a staggering 3.5 million $. The wedding guest list included Eva Longoria, Serena Williams, Gordon Ramsay, and even two of the groom's mother's former band mates, Sporty and Scary a.k.a Melanie C. and Mel B. Peltz's stunning, custom-made Valentino dress includes a sweeping veil.
#11 Johnny Depp
Say whaat! Johnny Depp back in 1990 was too good to be true.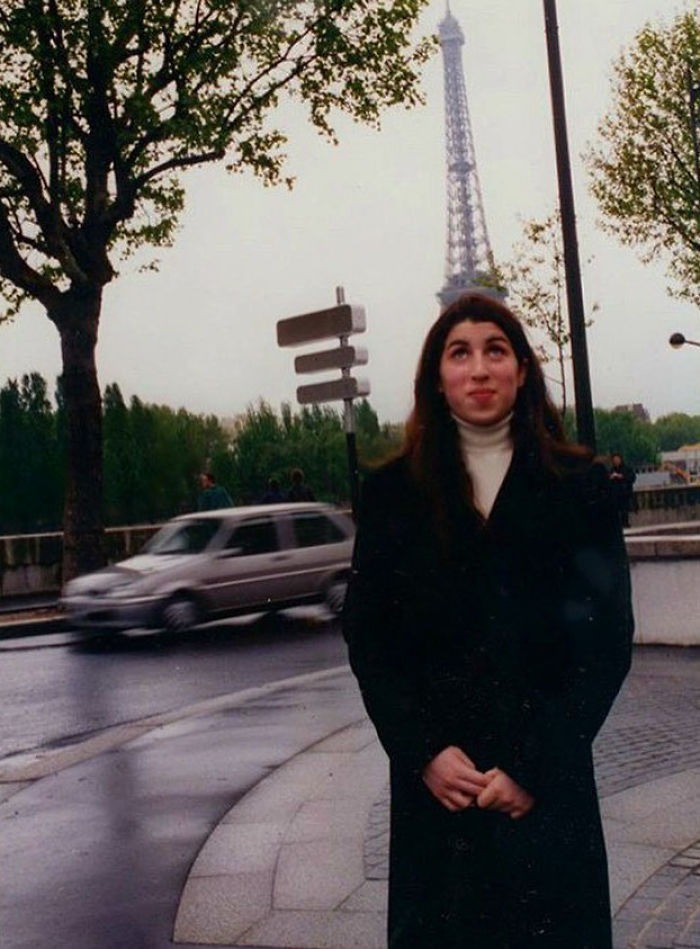 #12 Amy Winehouse
You've never seen Amy like this before. This photo was taken when she was just a teenager in the late 90s.
#13 Dolly Parton and Her Husband
Since Dolly Parton is such a phenomenon, one that stands for itself, we've never really thought about her personal life that much. The country music legend isn't "just" that, she's also a humanitarian who has supported numerous causes in the past years, and continues giving to those in need.
But what about her personal life? Recently, she posted an old photo on Instagram in which she's holding hands with her husband Carl Thomas Dean! The caption reads, "Find you a partner who will support you like my Carl Dean does". Such confessions of love are rather unusual when it comes to Parton, and seeing a snap of her husband is an especially rare occasion!
#14 Princess Diana, Prince Charles With Sons Harry and William
Apart from being a timeless style icon, Lady Di was known for her loving manner towards her sons Prince William and Prince Harry. Here, the whole family is pictured during a bike ride in 1989 – they all seem to have enjoyed it!
#15 Lady Di and Her Sons at the Circus
Prince William and brother Prince Harry are twinning in the same shirt here! Their mother must have been as funny and as charming as always, judging from the smiles on this picture.
#16 A Royal Family Picture
Prince Harry's smile is so sweet! It seems like his brother had already entered his "cool phase" at the time.