Radford Family: What Do Sue, Noel And Their 22 Kids Look Like Today?
Back in April 2020, Sue and her family welcomed her 22nd child into the world. What does Britain's biggest family, the Radfords, look like today?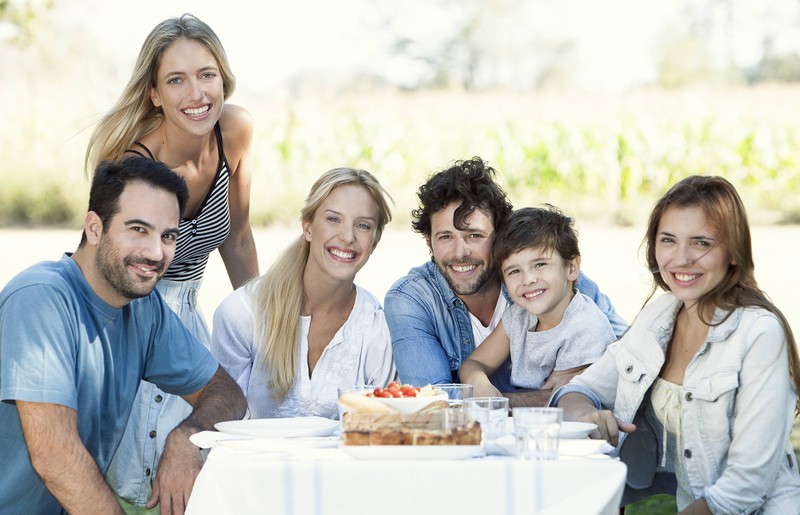 Source: imago images / PhotoAlto/ Symbolic Image
Stories about young mothers abound on the internet. With MTV's Teen Moms, they've even made their way into daytime television – interest in their lives and that of their families is quite the opposite of scarce! Sue Radford was very young when she and her now-husband started their family; she was only 14 years old. Today, they are Britain's biggest family with 22 children!
Here's the woman who was pregnant for more than 16 years:
Sue Radford First Got Pregnant When She Was 14
Sue Radford is an impressive woman. She's always wanted to have a family of her own one day, but her family planning might look different from other new-fledged parents. When she was only 14 years old, Sue expected her first child. Both she and her husband were given up for adoption, and they didn't want that for their child.
But she didn't stop there: for more than 16 years, Sue was pregnant. Most women need at least a year for their hormone levels to go back to normal – or reach a new normal. But Sue decided to skip that process!
This once again shows how strong women and their bodies are. The man by her side is Noel. In this Instagram post, they commemorate their son Alfie, who was tragically stillborn.
What's Sue's and Noel's life like today?
Sue and Noel Celebrating Valentine's Day
Sue and Noel first met at the tender age of seven. Only seven years later, they had their first child together. Surely, they wouldn't have expected that at their first encounter. Now, years later, they still seem to be in love and take the time to celebrate Valentine's Day together. Apart from this lovely snap, Sue and Noel share plenty of sweet photos of their many children.
Here's a photograph of their kids:
The Radford Children
On their Instagram account, the Radfords shared this sweet Christmas photo in 2020. Though this image only pictures 16 of their 22 children, you can see the age range of their kids!
Here's what baby number 21 looks like:
Baby Number 21
On November 6, 2018, little Bonnie Raye, Sue's 21st child, came into the world. Back then, she told "Metro" that she and Noel "both decided we don't want any more. Bonnie has completed our family."
She further explains: "The maternity clothes will be going in the bin shortly. I won't miss being pregnant at all [...] All the midwives at the hospital were asking if they would see us again next year and we both said, 'definitely not.'"
Well, sometimes life writes its own stories! Soon, their 22nd child was on her way...
Father's Day at the Radfords'
Sue shared this heartfelt post, dedicated to her husband Noel, in celebration of father's day. No, we're not jealous at all!
By now, Sue is 45 years old and her first son, Chris, is 31. These are the names of all of the Radford children:
Chris, 31, Sophie, 27, Chloe, 25, Jack, 23, Daniel, 21, Luke, 20, Millie, 19, Katie, 18, James, 17, Ellie, 15, Aimee, 14, Josh, 13, Max, 11, Tillie, 10, Oscar, 9, Casper, 8, Hallie, 5, Phoebe, 4, Archie, 3, Bonnie, 2, and Heidie, 1. Alfie would have been Sue's and Noel's 17th child.
You might think that at 22 kids, you eventually run out of ideas for names for your children, but not Sue and Noel! Their daughter Sophie already has three kids, too, and their little family perfectly complement the family.
Sue shared what it was like to hear the heartbeat of her 22nd child for the first time
Here, Sue Was Pregnant With Baby Number 22!
On this picture, she's in the 34th week, and obviously excited to meet her 22nd child, Heidie! News.com.aus shared that even after having given birth to 21 children, the first scan is still extremely exciting. Sue says: "That first scan is always very exciting. That moment where you get to see the little heartbeat flickering away [...] It's magical. And it doesn't matter if you've had one pregnancy or 22."
Here's an absolutely adorable picture of their youngest child:
Will Heidie Radford Forever be the Youngest of the Family?
Though Sue's not pregnant at the moment, nobody knows what the future holds. She and Noel surely have enough on their plates as is, with their youngest child, Heidie, being just over a year old. Noel Radford runs a pie shop which allows him to financially support his family. Sue is responsible for all kinds of domestic work, and says doing the laundry is the worst! "An average day, I can be doing four to five loads of washing. It's never-ending." This definitely puts things into perspective for us!
Since 2021, the family has their own TV show on Channel 5, "22 Kids & Counting". There, you can follow Britain's largest family and their tumultuous everyday life!