10+ Celebrities Who Got Caught Lying On Instagram
We all know that celebrities are real pros when it comes to Photoshop. These celebrities were caught lying about it on Instagram!
Do you remember the last time you saw a photo on social media or a magazine that wasn't photoshopped? No? Me neither. Celebrities have become notorious for using Photoshop on almost every picture they share to Instagram, creating the illusion of unattainable perfection around the clock. The Instagram account @celebface is dedicated to exposing the myth of "perfection" on the social media platform, and we must say, we love them for it. Can we just stop lying about using Photoshop, please?
Taylor Hill
Victoria's Secret models might be the very embodiment of beauty and grace, but model Taylor Hill looks completely different when she's not wearing a heavy layer of makeup and editing her pictures to the extremes. To be fair to her, Taylor is more than happy to share an equal number of bare-faced selfies, showing us that she feels confident in her skin whether she's fully preened or taking a makeup-free day.
Elizabeth Chambers
Seriously? We can't be the only ones who think it's ever so slightly savage that TV host and journalist Elizabeth Chambers appears to have edited her own husband's nose on a recent Instagram pic? Come on, Liz, you're supposed to love him unconditionally - not give him Photoshop nose jobs before you'll share him on your Insta.
Kourtney and Khloe Kardashian
While celebs have complete control over what pics end up on their own Instagram accounts, there's nothing they can do about the ones that make the press. This was certainly the case with a recent pic featuring Kourtney and Khloe Kardashian, the queens of Facetune and perfect posing. It's reassuring to know that they look real - glamorous, but real- on the unedited press shots.
Lais Ribeiro
Oh, come on, Lais Ribeiro, your body is beautiful anyway! We can't help thinking the Victoria Secret model's retouching of a recent red carpet pic is completely unnecessary - she appears to have suctioned in her already-tiny waist to emphasize her hip-jut, even though there is clearly nothing wrong with the original image as it is.
Rita Ora
She's one of the most stunning pop stars of the century, so why Rita Ora would feel the need to retouch any of her photos before they make it to her Instagram is beyond us. In a recent pic, she appears to have altered her skin tone, reduced the size of her nose, and even given her left boob a bit of a boost. Rita, you're gorgeous anyway!
Colton Haynes
We're actually a little bit scared of Colton Haynes' edited version of a recent red carpet pic. We much prefer the original - in which the Teen Wolf star hadn't apparently snatched in his waist and deepened his face tan. We think it's sad that he would feel the need to alter his appearance even slightly. He's already clearly a looker.
Heidi Klum
Heidi Klum has certainly been #blessed with good looks - we hope we look like her at almost 50! Bizarrely, the model, fashion designer and TV personality felt the need to retouch a pic of herself at the Emmy's, appearing to bring in her waist and thighs, creating a more hourglass shape. We don't get it - the original was stunning anyway.
Meredith Mickelson
We're surprised at how intricately some celebs focus on the details in a full-body pic - like model Meredith Mickelson, who posted a red carpet shot to her Instagram where her body appears to be unaltered, but her face had apparently been contoured and plumped, enhancing her cheekbones and jawline. You looked stunning anyway, Meredith!
Paris Hilton
Oh, Paris. Someone needs to tell the businesswoman and media personality that she's got a completely enviable body as it is, without having to resort to fake means of making herself look even better on pics. Not only does it seem the star has completely altered her skin tone on her version of a press pic, she's also sucked her waist right in - and added random glitter sparkles for effect.
Britney Spears
Some may say Britney hasn't aged since her pop princess days of the early Noughties. She's the epitome of body goals, so we think it's a shame she appears to have photoshopped a vacation pic posted to her Instagram account last year. It seems she's pulled in her waist, which has unfortunately altered the bottom half of her wrist so that it's wider than the rest of her arm. Oops, she did it again (sorry, sorry, we're leaving).
Cindy Mello
Another model, another case of apparent photoshop … Cindy Mello looks stunning in a recent photographer's shot in New York, but the model's own version of the pic sees her waist looking smaller, her chest enlarged, and her face smoothed. She really needn't have bothered!
Jennifer Lopez
J-Lo's curvy figure and peachy bum has been the envy of all women since the beginning of time. We think she looks gorgeous as ever on an official press shot at an event in 2018, so why the version that appeared on her Instagram was so highly-edited, we don't know. The singer and TV personality's waist has been pulled in, her bum rounded, and even her shoulders appear to have been slimmed.
Luiz Mattos
You'd think that out of the two people in this vacation pic, it would be model and all-round stunner Bella Hadid who was doing the editing, but apparently, her agent Luiz Mattos was responsible for this particular alteration. On the image posted to his own Instagram account, his waist appears to have been pulled right in, compared to Bella's pic, where it's noticeably wider.
Stella Maxwell
If it wasn't already enough being a Victoria's Secret Angel and the face of Max Factor, it seems Stella Maxwell also has some impressive editing skills up her sleeve … As much as she looks stunning on an original press pic taken at an event in 2018, the pic that made it onto her Instagram has gone through a few changes. Notably, the model's skin tone has been brightened, her face smoothed and her jawline contoured.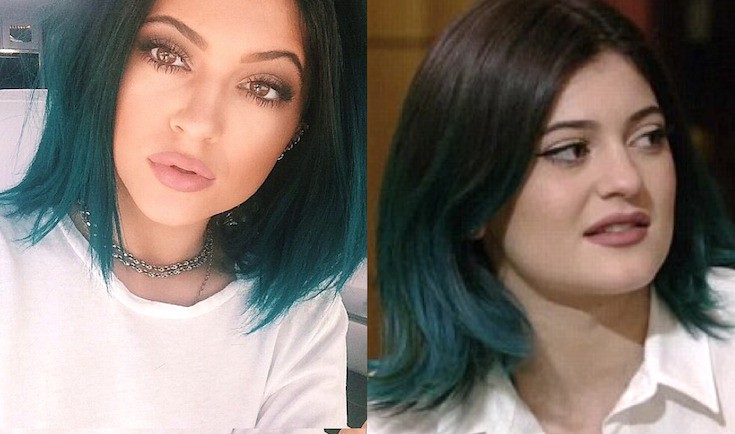 Kylie Jenner
She's famous for one of the most transformative glow-ups in history, but how much of what Kylie Jenner shares to Instagram is actually the truth? These two images were taken on the same day, and yet they hardly look like the same person!