Honest Drawings Show What Women Struggle With On A Daily Basis
Sometimes men don't see the problems that women face on a daily basis. The honest drawings of an artist will show you the reality of what women endure: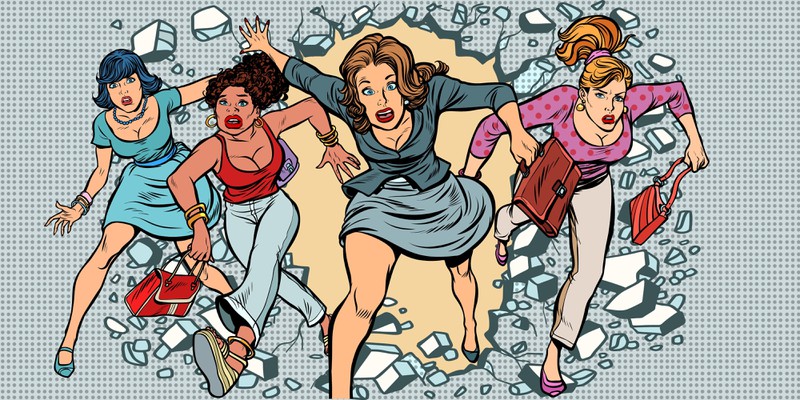 In everyday life, we are regularly confronted with issues and challenges that may not be obvious to others. Stereotypes and gender roles force us to behave in a certain way, as absurd as it may seem. The things men have to deal with are certainly not foreign to you, but could you say the same for women? Artist Lainey Molnar shows, with her honest drawings, the expectations and doubts that women have to face on a daily basis. One or the other of these images will certainly surprise you.
But make up your own mind:
#1 "Totally Normal Things That Just About Every Woman Does With Her Body".

1. "Holding your thumb for comfort".
2. "Pull out an ingrown hair".
3. "Forcibly squeezing blackheads.
4. "Peeing in the shower".
5. "Squeezing breasts for no reason.
6. "Finding a hair in the buttocks".
7. "Squeezing your body in front of the mirror".
8. "Eating crumbs from her cleavage".
So, if you thought until now that women were above things that are also quite normal for many men, you were obviously mistaken.
#2 Personal Well-Being
It's not a "man's business" not to express your feelings sincerely in front of other people, but it's a problem many women face on a daily basis as well. After all, no one wants to be seen as "weak" (we've been conditioned this way), even if in reality, of course, it prove how strong you are - and let's be honest: We all have bad moments from time to time.
#3 Long-Term Relationships vs. Dating
The sadness that follows the end of a relationship is quite normal, but after years of being together, you can at least prepare for it, whereas getting dumped early in a relationship can be very tragic for your self-esteem. After all, you've imagined all these great things that now will never happen.
#4 "Millenial Tinder"
For once, male stereotypes on Tinder are clarified!
#5 "The Two Ways to Dress"
Sometimes everything seems to fit and you don't have to think twice about your outfit, while at other times nothing seems to fit, even though you've already tried everything in every combination. The struggle is real sometimes, so we should value the effort we put into our outfits a little more!
#6 You Can Always Complain
As we age, it is normal for most people to gain a few extra pounds. Unfortunately, it is also normal for both women and men to always see their own flaws and find a reason to complain about their "flaws", only to realize years later that it wasn't so bad back then. A situation you certainly know too, don't you?
#7 "Too Old" for Your Own Clothes
No matter how much we say that "you're as old as you feel", some women are undoubtedly faced with the problem of being "uncool" if they still wear their old clothes from that time. We see no difference! Wear whatever you want.
#8 We Can Still Wear It!
Do you smell your clothes from time to time to know how much longer you can wear them, but you don't want to give yourself away by the smell? In this case, it's best to assume that this is also the case for women. When no one is looking, most people are certainly doing things they wouldn't admit to in public.
#9 Knowing What You Want
Having self-confidence and self-determination also means knowing who you are, what you have to offer and what you expect from others. If this means, in doubt, being alone from time to time, it only shows that one remains true to oneself, it is not a sign of weakness.
#10 The Same, But Different
When showing their skin and quite natural actions, women are often seen in a different light than men. For example, you will certainly know the saying "The world is your toilet", while women face outrage just for trying to breastfeed their child. Why one is acceptable and the other is not is not entirely conclusive.
#11 Reality vs. Ideal
Women's appearance and/or age should not determine their value, as the artist rightly points out. We have so much more to offer!
#12 Shame Due to Superficiality
Of course, anyone can have an opinion, but if said opinion robs others of their self-esteem and they are suddenly ashamed of what they really want, perhaps they should just keep it to themselves. Nobody needs unsolicited advice!
#13 Women's Hygiene Products
Women are more often faced with the problem that society doesn't want to see or hear about feminine hygiene products - but why is that? After all, menstruation is a completely normal process that is all too human. Should women really be ashamed of it?