Pregnant: These Celebrities Are Expecting A Baby In 2021
Talk about lockdown babies: Celebrities we've been following for ages are all of a sudden expecting a baby! These celebs are pregnant in 2021: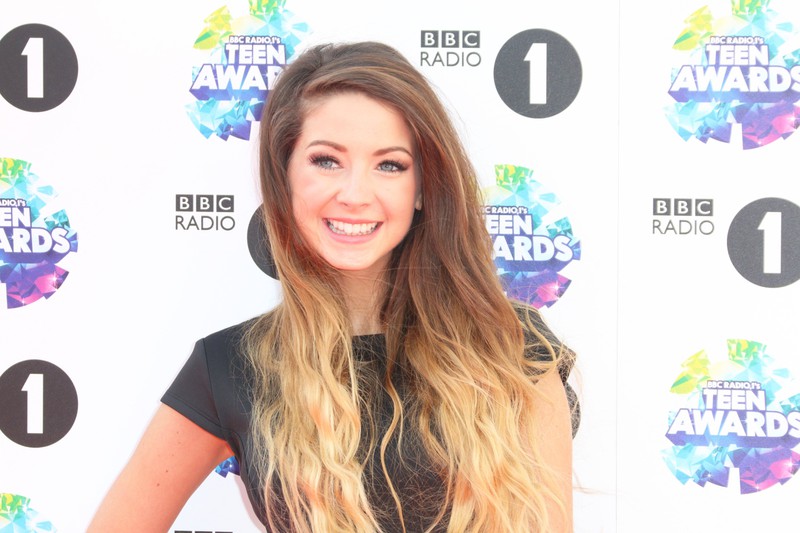 Source: IMAGO / ZUMA Press
At the moment, it seems like baby news after baby news flood our Instagram feed! The other day, we saw that Zoë Sugg and boyfriend Alfie Deyes are expecting a baby in 2021, just to find out that Jim Chapman's girlfriend Sarah Tarleton had already announced that Sarah is pregnant days before! What - is - happening! We're already psyched to follow the soon-to-be parents' every step along the way. Here's a list of pregnant influencers and celebrities:
Zoë Sugg and Alfie Deyes
British influencers and power couple Zoë Sugg and Alfie Deyes recently shared the happy news that they're expecting a girl in September 2021! On her Instagram account @zoesugg, Zoë, who seemingly hasn't aged at all since her early YouTube days, posted this emotional video montage about her pregnancy story so far. We're super excited about their baby news and wish them happiness and health along the way!
Jim Chapman and Sarah Tarleton
In July 2020, Jim and Sarah announced their engagement. This came as a surprise to many, since he and ex-wife Tanya Burr had broken up only 16 months before. On March 1st, the YouTube star and Sarah, who works as a fashion model, have shared the happy news that they will become parents in 2021! While writing the announcement post on @jimchapman, Chapman seems to have been in a rather pensive mood. He wrote: "The last 12 weeks have been such an odd mixture of hopefulness about what's to come, and worry that all may not be well. I may have had a part in making this little miracle, but I'm sure whoever they turn out to be, they'll be the making of me."
Congratulations to the young couple!
Source: IMAGO / PA Images
Pippa Matthews and James Matthews
Kate Middleton's little sister Pippa is expecting her second child with husband James Matthews! In December 2020, the couple announced that their 2-year-old son Arthur will be getting a baby sister. This also means that the Duchess of Cambridge's kids, Prince George, Princess Charlotte, and Prince Louis, will have a new cousin to spend playtime with.
All the best to the family!
Halsey and Alev Aydin
In January 2021, the 26-year-old singer announced her pregnancy on her Instagram account @iamhalsey. She captioned the post with the word "surprise!" and, oh boy, what a surprise that was! Halsey had previously opened up about struggling with her reproductive health, having had a miscarriage in 2015. This makes her pregnancy announcement, which was accompanied by a small baby bump photoshoot, even more special.
We couldn't be happier for Halsey and her boyfriend Alev Aydin.
Ellie Goulding and Caspar Jopling
In an interview with Vogue, Goulding revealed that she and her husband Caspar Jopling will become parents in 2021! She told the magazine that the pregnancy completely surprised them and they found out on their one-year anniversary. Perfect timing! Look at this glorious photograph she posted on her Instagram account @elliegoulding. We're also obsessed with her minimal makeup look.
In the beginning of May, Ellie gave birth to her first child! Jopling announced that both his wife and their baby are "happy and healthy".
Congratulations to the couple!
Chiara Ferragni and Fedez
More than 22 million people follow the Italian influencer on her Instagram account @chiaragerragni. Back in October, Chiara, her husband Fedez and their adorable son Leo disclosed that they're expecting not a dinosaur but a baby girl!
On March 23, the young parents announced that they've welcomed their second child, little Vittoria. Congratulations to the sweet family!
We're sending positive energy to them!
Leigh-Anne Pinnock & Andre Gray
On May 4, 2021, the "Little Mix" singer announced her pregnancy with her fiancé Andre Gray by posting a stunning pregnancy photo on her Instagram account! Both fans and her fellow band members were overjoyed by Leigh-Anne's baby news. She commented on the post with the words "We've dreamed about this moment for so long and we can't believe the dream is finally coming true... we can't wait to meet you."
We wish the couple the best one could possibly imagine.