Infuriating Shopping Fails That Show How Inconsistent Sizes Are
One of the most infuriating shopping fails is going for your usual jeans size – and it doesn't fit. These examples show how inconsistent sizes can be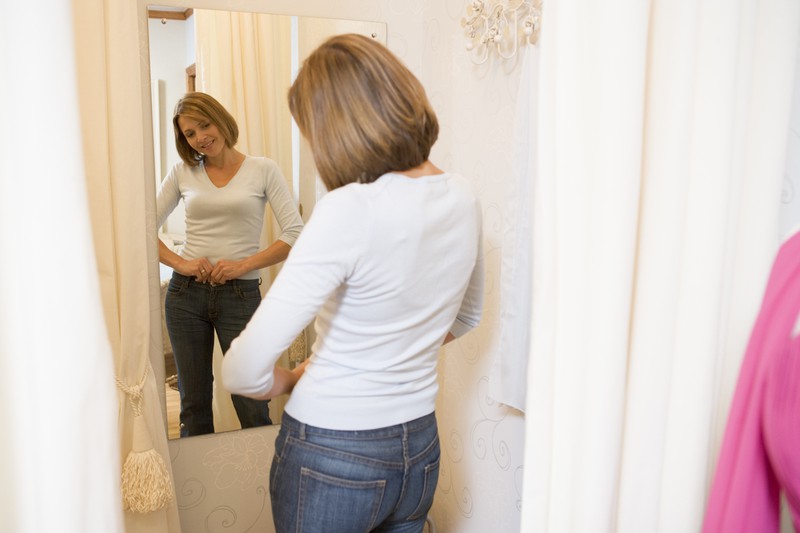 Although many of us enjoy strolling about the city and doing some clothes shopping, buying a new pair of jeans can turn into a dreadful experience. We know our usual size, but depending on the store we go to, sizes can vary a lot. Many women have detailed just how inconsistent sizes can be, and we'll introduce you to two of them on the next pages. A size 16 can look very different, as you'll see on the following pages. Finding the perfect pair of jeans can thus be an ordeal. Can you feel your heart beat starting to race as you imagine this infuriating experience? We're with you. These shopping fails show you how little you should care about sizing:
Sizing Systems of Pants Couldn't be More Random
We've probably all been in that situation in the dressing room when we try on two pairs of jeans but they couldn't be more different. Either one of them runs super small or super big. Either way, you leave the dressing room more frustrated than happy about your potentially new jeans.
This is a feeling Twitter user Samantha Bell must know all too well. On her account, she shared a photo of two pairs of jeans. They're presented as being the same size, yet they certainly aren't. The light blue pair is from H&M, while the black one is from Primark. As you can see, Primark's size 16 is significantly bigger than H&M's.
As one Twitter user points out, the annoying thing isn't necessarily that we want to fit into a smaller size, but that we simply want to rely on a stable sizing system, so shopping is easier.
She's not alone with her frustration:
The Fashion Industry Turns Shopping Into a Challenge
German influencer Venezia Blum has encountered a similar problem. In a post from August 2017, she turns to her followers with an important message:
"Shopping for jeans used to be pure agony for me – I was literally reluctant to do it. In my wardrobe, I had pants ranging from size 36 [US 8] to 44 [US 16]. There can be huge differences between jeans, and sizes especially don't matter!
Do you see how different my body looks in the pictures? I'm wearing the same size, but from different brands!
The one on the left is like a small size 36, the one on the right is like a size 38 that runs large."
And she continues:
Don't let Your Self-Worth Depend on the Size of Your Pants
"...Listen to yourself when you buy a pair of pants! Can you close the button without feeling like you're suffocating? Will you be able to drive your car for three hours in it? Do you always feel like you have to adjust it? A pair of jeans is supposed to embrace your body and offer a comfortable feeling while wearing it – it shouldn't annoy you🙈❤️. [By the way, there's a time difference of approximately 5 minutes between these two pictures😂]"
In a more recent post form 2020, Venezia Blum left us with the calming and inspiring words, "[t]o love yourself as you are is a miracle". We couldn't agree more.
If you get frustrated easily by trying on jeans in the store (just like us), we have a useful hack that'll tell you if they fit without putting them on!
This Hack Will Tell You if the Pants fit!
YouTuber AlexandrasGirlyTalk shared an invaluable hack for when you don't have the time – or don't want to – try on a pair of jeans. "There's a way you can put them around your neck and see if they're gonna fit your waist! All you have to do is wrap them around, make sure they're buttoned up, so that they're nice and taut and then if there's any extra slack, you know that they're gonna be a little bit bigger on the waist. If you can't get the jeans to touch around your neck, that's gonna be a really, really tight fit on the waist and you should probably size up." Brb, will have to try this hack right now!
Yet another Twitter user had a very different problem with a pair of jeans she'd ordered online:
Ordering Jeans Online: An Unwelcome Surprise
You think the worst that can happen when you order something online is that your jeans don't fit? Oh dear, you couldn't be more wrong, unfortunately! Twitter user Christine Evans received a surprise with her pair of pants she surely could have lived without. She had ordered the jeans from Nordstrom and found a "dirty and worn women's thong in the front pocket!" Ordering from Nordstrom was surely a decision she regretted as soon as she saw the little surprise – and she certainly won't shop there again...