20th Anniversary of "Harry Potter": Return to Hogwarts
Back in 2001, the first "Harry Potter" movie was released. 20 years later, HBO Max celebrates the anniversary with the cast: Return to Hogwarts!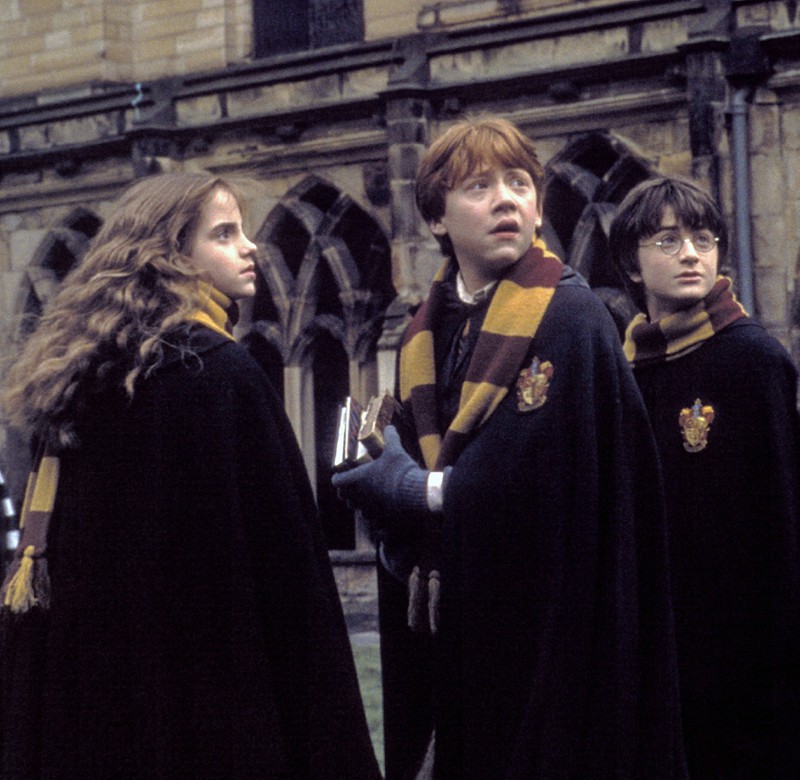 Return to Hogwarts
For years, fans have been waiting to see their childhood heroes on the screen again. Naturally, true fans are faithfully following the stories surrounding Newt Scamander and Grindelwald, since the third of five movies (The Secrets of Dumbledore) will be released in 2022. Completely unexpected, the world was graced with a marvelous announcement: In celebration of Harry Potter's 20th anniversary, a large part of the cast will return to Hogwarts for a special reunion! HBO Max already released the big reunion on January 1, 2022!
Have a look at the trailer to get in the right mood:
It seems as if the cast members receive an important letter which we all wanted to get when we were kids! Many of the actors have changed so much in the meantime that we almost have to look twice! At the end of the trailer, a list of all participating actors appears, but it's the first reunion picture that makes our hearts beat faster:
The "Harry Potter" Cast on One Picture
Let's look at the picture from left to right:
We see "Fred Weasley", wait, no, "George Weasley" actor Oliver Phelps, then his twin brother James Phelps, next to him we see Tom Felton a.k.a. "Draco Malfoy" and "Luna Lovegood" actress Evanna Lynch. The golden trio is in the middle of the image: "Hermione Granger", Daniel Radcliffe as "Harry Potter" und Rupert Grint as "Ron Weasly". On his right, we see "Dean Thomas" actor Alfred Enoch, Matthew Lewis who played "Neville Longbottom" in the movies, and Bonnie Wright who played Ron's sister "Ginny Weasley".
On closer inspection, you'll notice that there isn't only a great number of Gryffindors, but many actors who we saw in the trailer are missing. Many fans are curious which role "Lord Voldemort" (Ralph Fiennes) will play in the reunion!
After lots of speculation, HBO Max allows fans a first glance at the reunion...
The First Trailer
While HBO Max first only gave us small glimpses into the reunion, they soon gave us the first official trailer. Apart from Daniel Radcliffe, Rupert Grint and Emma Watson, the trailer features all actors who will reminisce about their "Hogwarts past". What you'll immediately notice: this is way more than just a reunion. As Emma Watson puts it: "There's something about Harry Potter that makes life richer." Her colleague Rupert Grint ads: "It's a strong bond that we'll always have. We're family." Goosebumps!
And then the time has finally come:
By the way, did you know that Daniel Radcliffe has a historical doppelganger?
Return to Hogwarts
As expected, the cast received an invitation to Hogwarts via mail, then making their way to the castle. Similar to the Yule Ball, dancers and a festive mood welcome the fans into the Great Hall. Radcliffe, Watson, and Grint are in the focus of the trailer, and they're predominantly chatting in the Gryffindor common room. We learn, for instance, how some actors got their role – like the golden trio, Tom Felton and Ralph Fiennes.
They're not just talking about their acting though:
Several Hundred Kids on Set
We can only imagine how stressful it must have been, at times, to shoot the movie with several hundred kids at once on set. The actors repeatedly stress that they enjoyed the time on set also because they were allowed to be kids there. Being on set didn't only mean that they had to act, there was also time for playing games, hiding, and exploring the area. They reached puberty together, they fell in love, they fought, and they grew up together. With burning cheeks, Emma Watson shares that she had a huge crush on Tom Felton and in which moment she fell in love with him. With tearful eyes, Rupert Grint explains that Emma Watson has become an important part of his life and his family. No wonder fans are near to tears!
However, some things didn't go so smoothly during the reunion:
Embarrassing Mistake
Right at the beginning of the show, the cast talks about what it was like for them when the books first hit the bookshops. When the first book was released, Emma Watson was eight years old and a sweet, old photograph is supposed to confirm just that. However, many fans, just like @vee_delmonico99 on Twitter, noticed that there was something wrong about the throwback snap. The little girl on the photo doesn't look like Emma Watson at all, but rather like fellow actress Emma Roberts! Neither the production crew, nor the two celebrities commented on the incidence, however, the mistake was quickly fixed.
Fans love to do cosplays of Watson and the whole "Harry Potter" cast!
Here's how Watson reacted to the mix-up:
Emma Watson Laughed the Confusion Away!
Jokingly commenting on the photo that shows a young Emma Roberts wearing Minnie Mouse ears, Watson writes, "I was NOT this cute." Honestly, we don't believe her, though! Through this amusing mix-up, Emma Roberts will forever be a part of the "Harry Potter" reunion!