12 Stars and Their Stunt Doubles
Many Hollywood stars shoot dangerous action scenes. That's when their stunt doubles come into play! And they look just like them!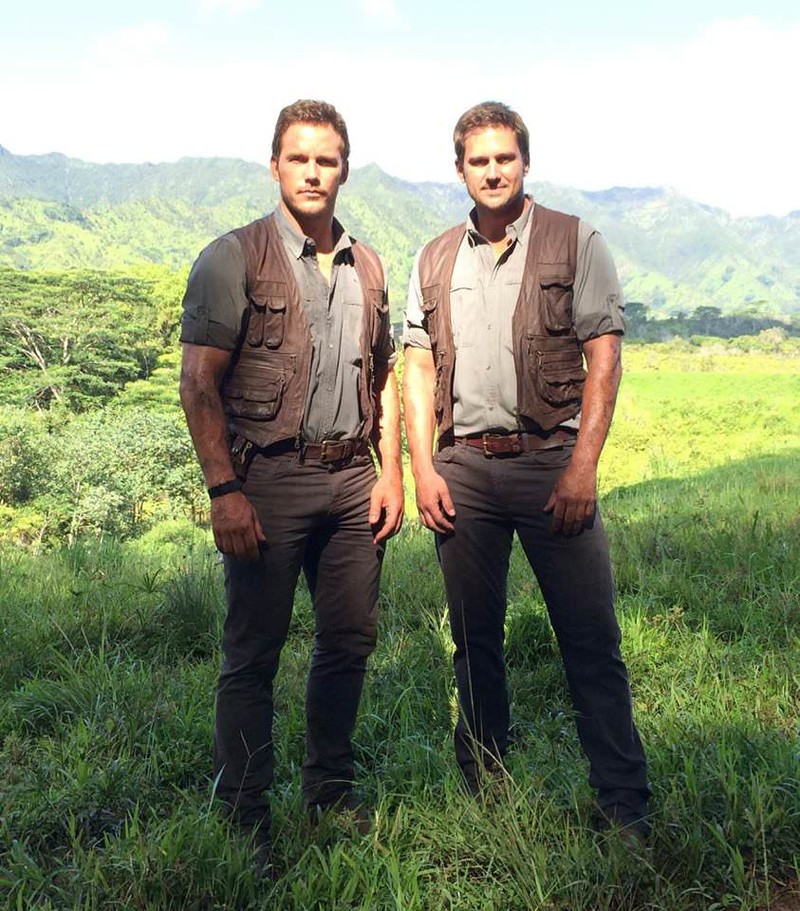 In movies and series, many actors are action heroes who jump out of cars or planes and fight their enemies with force. Some scenes are obviously not without danger. Fortunately, there are trained stunt doubles who play our Hollywood stars so well in perilous scenes that it goes unnoticed. Many of these stuntmen and women even look like the stars - but see for yourself!
#1 Chris Pratt & Tony McFarr
Actor Chris Pratt and his stunt double Tony McFarr first met in "Guardians of the Galaxy." McFarr then mimicked the action hero in films such as "Jurassic World", "Jurassic World: Fallen Kingdom", "Passengers" and the second part of "Guardians of the Galaxy". He supposedly received a fee of 80,000 euros for his participation in this film.
[oligarchy via Imgur]
#2 Halle Berry & Anisha Gibbs
In "John Wick 3", Anisha Gibbs played the action scenes for Hollywood star Halle Berry. She told People magazine at the time: "The most interesting challenge for the stunt work in John Wick 3 was working with the dogs, which was totally new for both me and Halle! [...] Everything has to be rehearsed over and over again until it's absolutely perfect to ensure the safety of the dogs, and we had to spend a ton of time with them off-camera to have them get comfortable with us, learn our scents, and know who to 'attack' when the time was right."
#3 Dwayne "The Rock" Johnson & Tanoai Reed
The well-trained body seems to run in the family, as Tanoai Reed is not only Dwayne Johnson's stunt double, but also his cousin! The two have previously starred together in several films, including "Skyscraper" which was released in 2018. During their collaboration, Reed has already been injured once or twice. But even without his famous cousin, Reed has gained a foothold in the industry. His credits include roles in various films, such as "Charlie's Angels: Full Throttle", "Blood and Bone" and "American Gladiator".
[KaleBrecht via Reddit]
#4 Jennifer Lopez und Vanessa Vander Pluym
If you're familiar with the series "Shades of Blue" starring Jennifer Lopez, you've probably seen her stunt double Vanessa Vander Pluym. But you probably haven't noticed her! For three seasons, she performed alongside the Hollywood star. But the stunt double also played in series like Jane the Virgin.
#5 Mark Wahlberg & Dan Mast
Mark Wahlberg also plays an important role in various action films. For the film "Transformers: Age of Extinction", he was accompanied by a stuntman who was then still young: Dan Mast, who even received an award for his performance! In the meantime, he has made a name for himself in the business. In any case, he passes for a look-alike!
#6 Reese Witherspoon und Marilee Lessley


The resemblance between actress Reese Witherspoon and her stunt double Marilee Lessley is also striking. They could even pass for sisters! Indeed, Lessley mimes the 46-year-old actress most of the time in scenes where she is not very comfortable or is present for light tests.
#7 Elijah Wood und Kiran Shah
As it was not possible to represent the size of the hobbits in "The Lord of the Rings" only with CGI, it was necessary to find a double for Elijah Wood. Indeed, Kiran Shah is considered the smallest stuntman in the world! So he not only played an important role in Peter Jackson's film adaptation, but was also seen in dozens of other blockbusters. As an actor, among others in: various parts of "Star Wars", "The Chronicles of Narnia: The King of Narnia" and "Alice in Wonderland". As a stuntman, for example in "Harry Potter and the Philosopher's Stone2" and "Titanic".
[armyfidds via Reddit]
#8 Zooey Deschanel & Monica Braunger
"If you love Jess from New Girl, then you love Monica," actress Zooey Deschanel wrote under her photo on Instagram. Her stunt double Monica Braunger has been a part of her film life for over 10 years. Braunger herself even met her future husband on set and fell in love with him. In total, she has appeared in 48 episodes and in films like "Yes Man" and "Superhero Movie".
#9 Bruce Willis & Stuart Wilson
Bruce Willis' stuntman, Stuart Wilson, also looks a lot like him! They have been working together for many years. As Bruce Willis has also aged with time, the work of his stunt double was all the more important to him. Wilson even received a SAG Award for his performance.
[willis_double via Twitter]
#10 Henry Cavill & Paul Darnell
The stuntman Paul Darnell has also made a name for himself in the business. He played the role of actor Henry Cavill in "Man of Steel" and was able to become Superman himself. He was also a stuntman in several other films, such as "Top Gun: Maverick", "Matrix Resurrections" and "Tenet".
[dailysupes via Twitter]
It is therefore not surprising that he also played the following actor:
#11 Robert Pattinson & Paul Darnell
Indeed, Paul Darnell has already had the opportunity to get to know Robert Pattinson. In the middle of the love story between Bella and Edward, there were several action scenes that needed to be played by someone. Luckily Darnell was there.
[TwilightTR1 via Twitter]
#12 Chris Hemsworth und Bobby Holland Hanton
In order for Chris Hemsworth's stunt double to become so broad-shouldered, he had to stuff himself. It is said that he ate up to 35 meals a day to look like the actor. He also had to grow out his beard and hair so he could dub him as realistically as possible in the "Thor" and "Avengers" movies. But in the meantime, the resemblance was not long in coming.
[SpinnMovieSpot via Twitter]