Travel Destinations Instagram Single-Handedly Destroyed
If you're looking for your next travel destinations, you probably shouldn't consider the following tourist attractions, because Instagram destroyed them!
Especially when it's grey and rainy outside, we love to scroll through our Instagram feed to get travel inspiration. What will we experience at our next destination? Will we opt for a beach holiday or a hip city trip? Instagram often helps us make our decision. However, there's one problem we will have to face when journeying to instafamous destinations: it will be overcrowded. As you can imagine, huge crowds tend to destroy things (just think about festivals), and you can tell when you decide to visit the popular places. On top of that, influencers are very fond of enhancing their images, so what you see on Instagram usually isn't what you get.
We'll tell you which travel destinations you should put on the shelf for now, otherwise you'll be bitterly disappointed...
#1 Great Wall of China
This popular tourist attraction is more than 8000 kilometers (4970 miles) long – considering this fact, you might expect that you're walking alone for the most part.
Well, unfortunately that's not the case! Visitors have to push past each other in order to career along this imposing structure. Plus: where there are tourists, there is trash. Plenty of it. While traveling with strangers can entail sweet surprises, oftentimes it can be a strain.
#2 Three-Country Point
Another popular destination is the Three-Country Point where Switzerland, Austria and Germany meet. Especially during the Covid-19 pandemic, numerous tourists flocked to this beautiful piece of earth in 2020. However, especially the enchanting Neuschwanstein Castle in Bavaria is completely overrun with tourists. The magic this place used to hold is gone.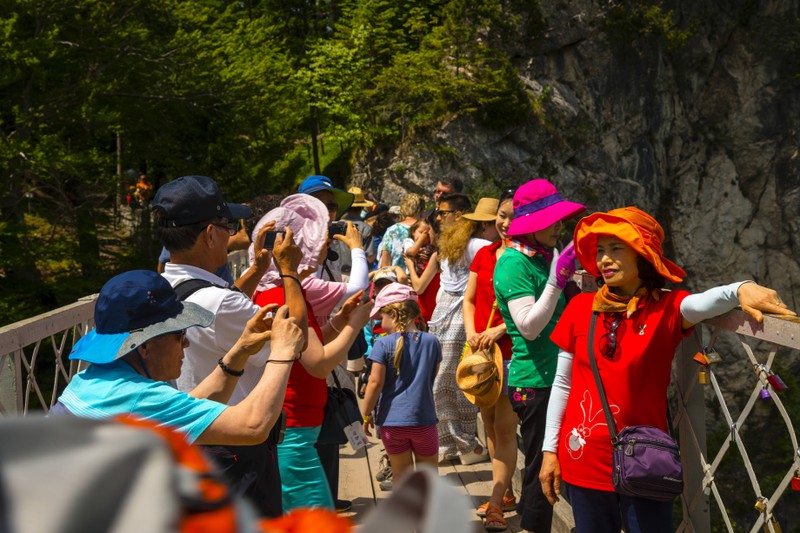 This is What Neuschwanstein Castle Looks Like in Reality
Those who wish to get an unforgettable snap of King Ludwig II of Bavaria's abode try to do so by standing on the "Marienbrücke", which is, of course, completely packed.
#3 Terme di Saturnia
Want to visit the picture-perfect Terme di Saturnia in Tuscany? Well, you're not the only one! Influencers know that the best time to visit the natural thermal springs is in the small hours – getting a view of the sunset is truly magnificent. Add the right kind of filter and the spring water looks turquoise in a heartbeat. Naturally, the reality looks very different:
Lots of influencers, like @buscandoalsol regularly post breathtakingly beautiful pictures of this magical place on earth. Looks pretty idyllic, right? Well, unfortunately, the reality looks very different! Naturally, the water has been photoshopped too...I guess we're not alone when we say that Photoshop can be annoying at times!
What the Saturnia Hot Springs Really Look Like
Those who travel around Tuscany won't want to miss the hot springs. However, what you'll see will look more like the picture above than the previous picturesque Instagram snap. @marco_romano__ ensures we also get to see the reality of it all.
#4 Águeda
We've all seen them before: the colorful umbrellas of the Portuguese city Águeda. The umbrellas certainly look amazing and would be brilliant for a photo, if only there wasn't this one problem...
Águeda: The Reality Looks Very Different
Looking up to the umbrellas is certainly a prettier sight than looking straight ahead. This place is swarming with tourists, as you can see on @turismoinaveir's post.
#5 Bali
Most influencers, it seems, have been to Bali – maybe for a yoga retreat, but definitely also for the various opportunities to create beautiful content. One of the most popular sights is the temple Pura Luhur Lempuyang, which is also famously called "Gates of Heaven". We're not surprised, since it seriously looks like the temple directly transports us to heaven.
However, outraged Twitter users show us what's really going on behind the scenes. Where's the water surface all of a sudden? There is no water, it is created through an optical illusion. You won't believe it, but the water is fake. On top of that, in order to get your "perfect" photo, you have to wait in line for a long time.