13 Rare Photos Of Celebrities With Natural Hair
Celebrities have all kinds of hairstyles over the course of their careers. But what does their natural hair really look like? Here are some rare photos!
While it might appear that celebrities are naturally gifted with perfectly-coiffed hairdos that stay impeccably styled on the day-to-day, in reality, this isn't the case. Celebs are more like us than we think, which means while they have their fair share of good hair days, they also experience the not so good hair days. Like frizz. And grease. And those annoying kinks that refuse to be tamed. Lucky for us, the internet is a treasure chest when it comes to celebs - we've found some rare photos in which celebrities show their natural hair!
If you need proof that all celebrity hair isn't super-sleek, shiny and straight by default, here are a few examples of celebs rocking the natural hairstyle. They might go even further than surprise you- maybe you'll even be inspired to proudly show off your own natural hair every once in a while. Thanks to Instagram accounts like @grande.imagine we can indulge in some real gems!
Ariana Grande
She might be famed for her long, sleek, high pony tails, but behind closed doors, Ariana Grande's natural hair is the exact opposite - short, bouncy curls. Although the thank u, next singer rarely showcases the style on-camera, a post to Instagram back in 2015 is enough to leave us wanting more.
Meghan Markle
It appears Meghan Markle hasn't worn her hair natural since her marriage to Prince Harry in 2018, but old pictures of the Suits star's natural hair texture have been circulating the internet, and we love it! We're yet to see the day Meghan steps out embracing her thick afro curls - but we're sure it won't be long until she does. The fan account @meghanmarkle_official created this amazing photo collage of Meghan's hairstyles over the years!
It Was Lilibet's First Birthday!
The resemblance between Lilibet and her father Prince Harry when he was at her age is uncanny! To celebrate her first birthday, the Duke and Duchess of Sussex gathered their family and friends, including face painting and happy faces.
J-Lo
J-Lo seems to look red-carpet ready on all occasions. While her hair is usually long, blonde and lustrous, the singer and producer posted a no-makeup vacation selfie that showed it in a much more chilled-out messy bun. Granted, it looks more pristine than our messy buns could ever look, but it's proof to us that even J-Lo's hair takes a day off every now and then.
Adele
It's no secret that Adele's a fan of a fancy beehive, but there's plenty of evidence on Instagram that not all of her looks rely on hundreds of bobby pins and a can of hair spray. The Someone Like You singer also has a substantial wig collection, but it's nice to see that she's equally happy to rock the natural look on the day-to-day.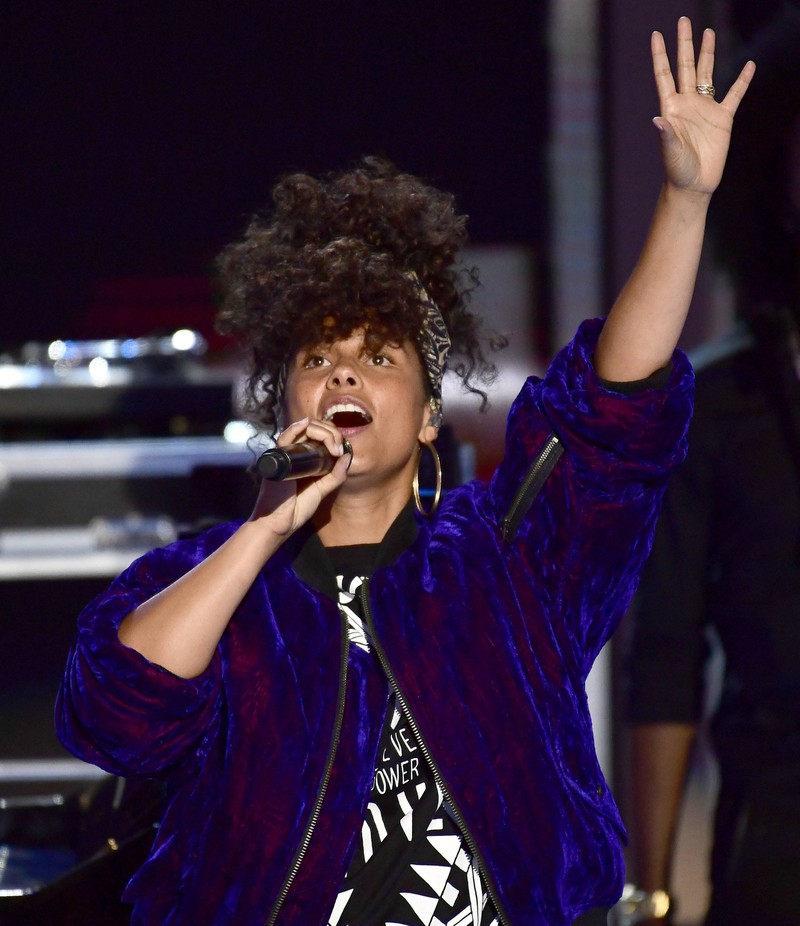 Alicia Keys
We love that Alicia Keys is such an advocate for the natural look. While she still sometimes rocks the high-styled hair on the red carpet, these days we're more used to seeing her with a fresh face and statement afro.
Katy Perry
Katy's hair seems to have been every shade of the rainbow in all the years she's been in the spotlight- as well as every length, style and cut. But in a recently-shared Instagram pic, she proved her looks weren't always as out-there as they are now. We love the more natural shade of brown, although we doubt Katy will be going back there any time soon.
Lady Gaga
Another lover of the wigs, Lady Gaga's bold makeup and hairdos have given her something of a reputation since she shot to fame as a singer-songwriter, but that's not to say the star isn't a fan of the occasional no-makeup, messy-haired bed selfie. We love getting to see behind the performer to the real person. It seems that her natural hair color is more of a rich brown shade.
Oprah
Oprah has never been one to shy away from her natural hair, and we love her for it. The legendary television host's hair journey over the years has been iconic in itself. Recently she seems to be reverting back to her old 80s 'do, teased but otherwise natural, and we think it suits her the most. According to Oprah.com, she's said that "wearing natural styles makes her feel unencumbered."


Sarah Jessica Parker
Is there anything SJP doesn't look flawless in?! The American actress and designer, most famous for her role as Carrie Bradshaw in Sex in the City, looks equally as chic with her super-smooth runway hair as she does with her casual, everyday waves. It seems the star has been favoring the more natural look recently, as proven by her most recent few Instagram selfies.
Zendaya
Even Zendaya's natural hair days look better than any look we could spend hours putting together. We're happy to see that the actress, singer and model proudly shows off her natural curls on her social channels, proving that straight and sleek isn't the only style she's capable of pulling off. She's one of those child stars who've undergone a magical transformation, don't you think?
Michelle Keegan
We're used to seeing Michelle's hair perfectly-preened, with elegant Marilyn Monroe-style bouncy curls that appear to be held up by magic itself (either that, or an amazing hairspray we are yet to discover). But the Our Girl star has admitted herself on Instagram that her natural hair goes a lil' crazy in the humidity, and as proven by a selfie taken in the Caribbean, she pulls off the beach-waves look perfectly.
Emma Stone
Sometimes celebs dye their hair for a role, realize they prefer it that color, and we never see their natural shade again. This was the case with film star Emma Stone - until she dyed her hair back from auburn to its natural blonde shade for The Amazing Spider Man. Are we slightly jealous that she suits two completely different hair tones so perfectly? Maybe a tad.
Beyoncé
As much as we love the princess of pop's hair however she has it - it's been blonde, black, curled, cornrowed, chopped to a sleek bob and braided in the past - we think our favorite look is the beautiful afro of her childhood, as shared on her Instagram account in comparison with her own daughter, Blue. Aww, Bey - you both look adorable!