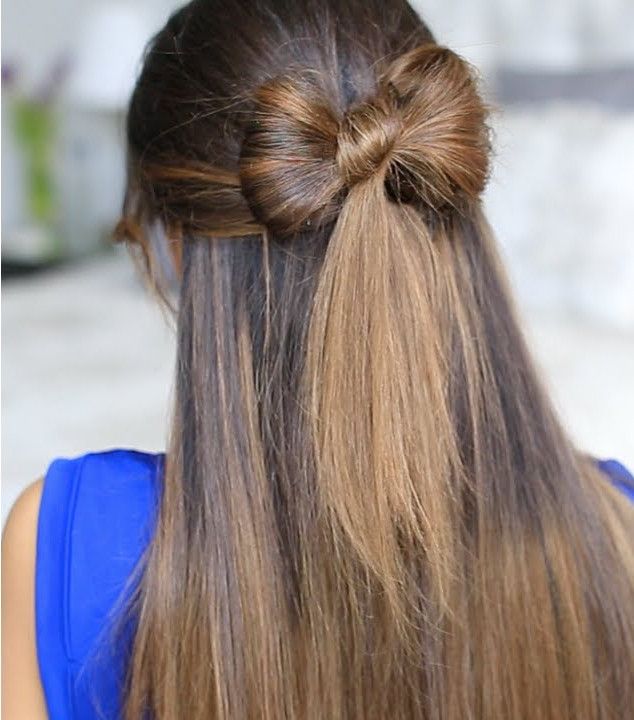 Hair bows aren't just something your mother used to put in your hair for school in the morning - it's now a beautiful hairstyle that is not only pretty, but chic too! Using nothing but your natural hair, you can create this bow in just a few minutes.... it's so much easier than it looks!
If you want the prettiest hairstyle around, go to the next page for the step-by-step tutorial!
Here's how to get this gorgeous look:
1. Gather the hair around the crown of your head.
2. Secure this hair in a ponytail just below the crown.
3. Pull the hair through the hair elastic to create a loop.
4. Carefully divide the looped section in two even parts.
5. Use bobby pins to secure each part to your head, using one bobby pin at the top of each loop, and one at the bottom.
6. Take the majority of the 'tail' section of the ponytail, and bring it up over the elastic.
7. Create a hole just behind the elastic and feed the 'tail' through so that it emerges below the elastic.
8. Secure the hair above the elastic using a bobby pin.
And there you have it, a beautiful bow! Still not sure exactly how it's done? The video tutorial on the next page will show you how to do it IRL - go have a look!
See, it's a whole lot easier than you'd imagine! What do you think? Is the hair bow a style you'd like to try out this summer?